Saturday, November 24, 2007
I was so tired yesterday that I didn't have the energy to upload the pictures and update my blog. Anyway, yesterday morning my mom woke me up at around 6am. I was too lazy to get up because I slept late the other night because I'm too busy updating my new blog.
I got out of my bed at quarter to seven. My mom keeps on shouting. (Yung lola mo kanina pa naghihintay.. kanina pa nakabihis.. ayaw ninyong sunduin.. blah blah blah..) I was wondering about what she's talking about because she didn't tell me that my lola has an appointment to the doctor. (hay! si mommy talaga gumagawa ng sariling schedule hindi man lang pinaaalam saken. Eh kung alam ko sana edi natulog ako ng maaga. tsk tsk
) So there, My brother, Ryan, and I went to my grandmothers' house to pick her up.



FIRST STOP: Asiatic Laboratories


We're heading to Asiatic Laboratories to get some series of blood test for my Lola. On the way there, we passed by Columbo Computer Shop (waaah! bigla ko namiss yung columbo kahit ilang beses palang ako nakapunta doon.
)
, we also passed by different food establishments that caters good food

(grabe.. nagutom ako.. haha kasi hindi pa ako ngbreakfast.)

. In the laboratory, my Lola got some series of Blood and Urine tests. The results will be given to my Lola's physician so we'll have to get another appointment in another day.

(Yehey! Tapos na.. its time to eat.)





Next Stop: Seattles Best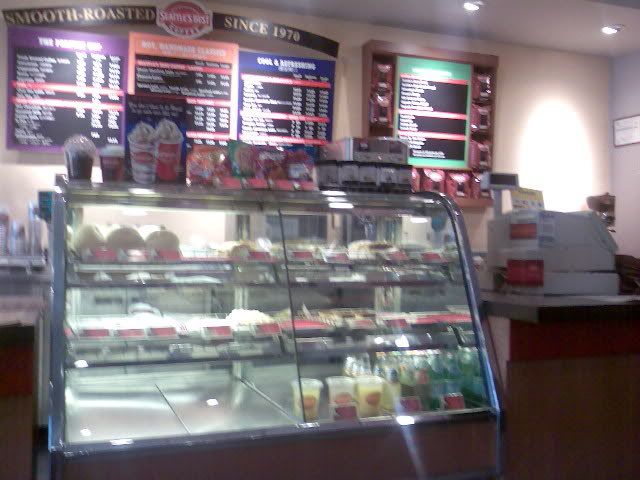 My mom gave us a breakfast treat at seattles best!
(wala na ako masyadong makukwento dahil kumain at kumain lang naman kami.. )

Too bad I was so hungry that I forgot to take some pictures of the food. Anyway, here's the other pictures that we took while we're there.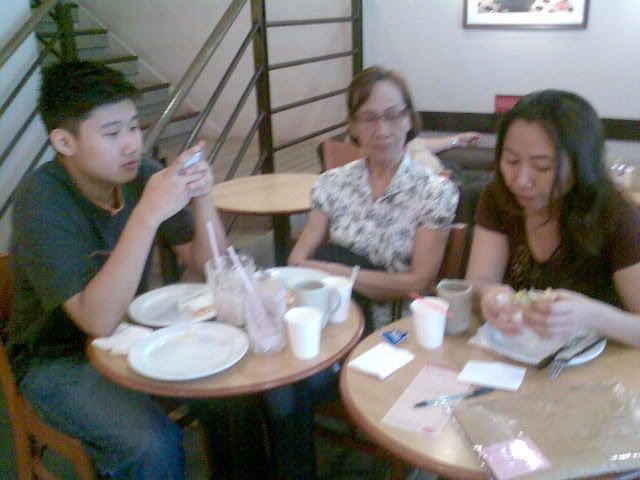 Stolen Shot
My Lola and Mom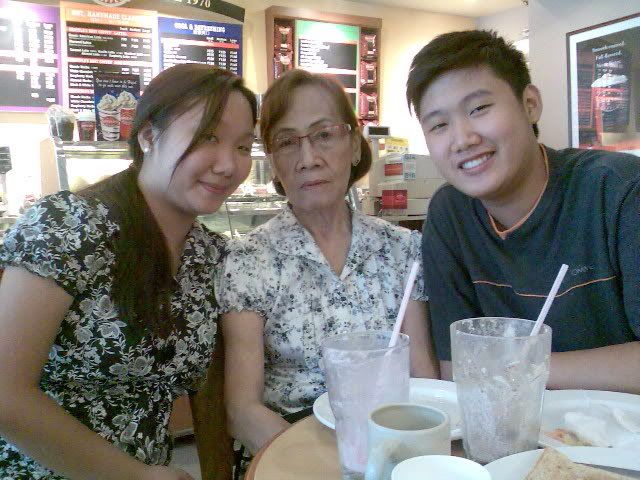 Dee, My Lola and Ryan
The Final Stop: Robinsons Place Ermita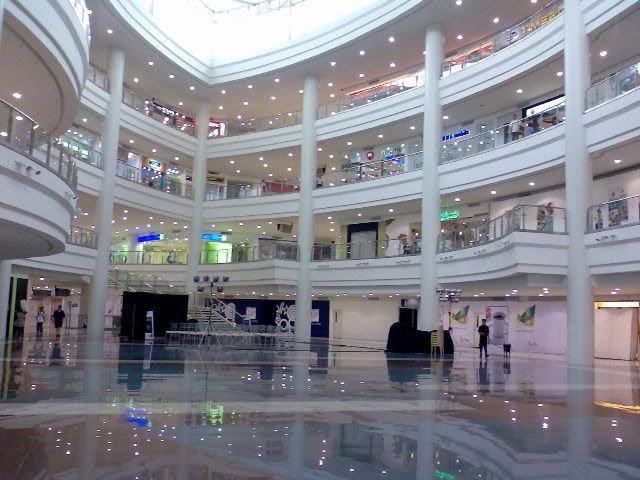 This is the new Robinsons Place Ermita.
(ang ganda diba? ang layo dun sa dati..)
We walked around the mall and my lola started to look for her new christmas decors but unfortunately, we couldn't find any because she was too picky. I kept on looking at my watch because I have already plans after lunch.
(hahaha! punta ako e-halls! hindi pwedeng hindi ano!)
After several hours of walking, we all got tired and decided to eat out lunch at Mr. Choi Kitchen.
(this is one of my brother's favorite resto.. wohoo! chinese food! kaso lang hindi pa ako masyadong gutom dahil heavy un breakfast ko.. ooooh no!!!!!
).
Anyway, we took some pictures. Here it is...