Monday, November 26, 2007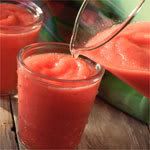 Ingredients:
Use any lemonade mix
1/2 cup water
3 cups ice cubes
1 cup fresh or frozen strawberries
Directions:
MEASURE drink mix into cap to 1-quart line.
PLACE drink mix, water, ice and strawberries in blender container; cover. Blend on high speed 10 seconds. Turn off blender. Stir with spoon; cover. Blend an additional 5 seconds or until smooth. Serve immediately. Store leftover slush in freezer.